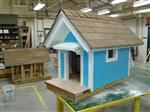 Phone:
Email:
Degrees and Certifications:
Dog House Project - Carpentry 1 - Spring 2017

Students in Carpentry One completed their performance profiles by building a Dog House. Students in 1st and 2nd periods of Spring 2017 each built a Dog House from the ground up.

Some of the vocabulary covered in the building process includes:

Rim Joist, End Joist, Floor Joist (Crown Up), Blocking, Bottom Plate, Top Plate, Common Stud, 12 O.C., Kind Stud, Trimmer Stud, Cripple, Header, Ridge Board, Rafter with Bird's Mouth, Barge Rafter, Lookouts, Collar Ties, Fascia, Soffit, 7/16 OSB Sheathing, OSB - Oriented Strand Board, 15 pound Felt Paper, Plastic Caps, Drip Edge, Eaves Drip, 3-Tab Shingles, Bull the edges, Picture Frame, Pitch, Trim, casing, caulk, paint, cutting in

Please see below for pictures. Enjoy!