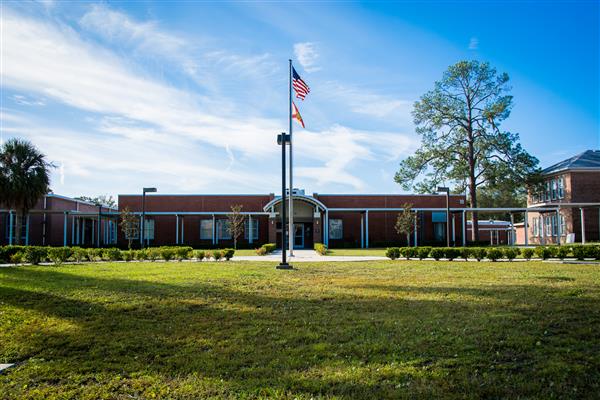 Dual Enrollment:

Dual enrollment enables high school students to simultaneously earn both high school and college credits for a single course. Tuition and academic fees are free to high school dual enrollment students. District school students are provided text books by the district. If classes are at the Nassau FSCJ campus transportation is provided. The following classes are offered on campus at HMSHS:

ENC 1101

ENC 1102

LIT 2000

SLS 1105

Advanced Placement Courses:

Advanced Placement (AP) is a program run by College Board that allows you to take courses right in your high school that can earn you college credit and/or qualify you for more advanced classes when you begin college. HMSHS offers:

AP Language and Composition

AP Environmental Science

AP Human Geography

Honors courses:

Honors classes often offer the same curriculum as regular classes but are tailored for high-achieving students — covering additional topics or some topics in greater depth. HMSHS offers the following honors classes:

English 1

English 2

Advanced Language Arts 1-3

Algebra 1

Algebra 2

Geometry
School and Community:

Hilliard-Middle Senior High School (HMSHS) is located in Hilliard, Florida, a rural community in Nassau County whose main industries are agriculture, timber, and aviation. The school is considered the heart of the community and is supported by multi-generational families. HMSHS is the only combination school in Nassau County, serving grades 6-12. HMSHS functions on a 4x 4 Block Schedule consisting of four nine 9 week grading periods beginning in August and ending in May.

Hilliard Middle-Senior High School has consecutively been rated a "B" school by the Florida Department of Education over the last three years. HMSHS has maintained over an 80% graduation rate and surpassed state averages in the areas of Math and Reading, as measured by the PSAT. Fifty-seven percent of students who took the ACT in 2015 were deemed ready for college-level curriculum in English Composition. Forty-nine percent of the same group was deemed ready for college-level curriculum in social sciences. These percentages exceed the state average. Since the start of the school year, the number of students demonstrating progress toward College and Career Readiness has increased.
The school serves a population of 740 students in grades 6-12. The student population is composed of 90.7 % white, 3.7 % black, 3.7 % multi-racial, and 1 percent Hispanic. The gifted program serves 16 of these students. The Exceptional Student Education Program serves a total of 111 students. The Communities in Schools program serves a total of 80 students, with 25 regularly attending a tutoring program offered before school hours. The school lunch program offers both a nutritional breakfast and lunch to students. Approximately 53 % of HMSHS students are eligible for free or reduced meals.

Grading Scale:

A=90-100, B=80-89, C=70-79, D=60-69, F=59 and below.

Graduation Requirements: