Upcoming Senior Portraits!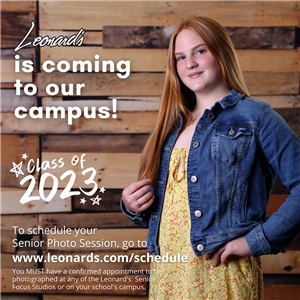 Class of 2023... Book now In-Studio OR on Campus!
Schedule your SENIOR SESSION with Leonard's at the Fernandina Beach Campus on JUNE 28th OR JULY 28th.

OR Schedule your photo session at Leonard's studio ANY TIME during June or July.



Prices begin at $25 for the sitting fee - this includes the FORMAL photo for the yearbook. * Leanard's has included ONE change of outfits with this $25 sitting fee.*
The YEARBOOK FORMAL photo must have been chosen by Sept. 19th! If you take your photo AFTER this day, you will STILL BE IN THE YEARBOOK, you just won't be able to choose which one goes in.
To Book your photoshoot:
Look in your email with your personal code (the email will come from Leonard's!)
Go online to:

If you do not have a code:

Go to www.leonards.com > seniors > and search for yourself with your name and your student number OR

Or call 800-215-4852 and tell them your senior's name and you need their log-in.
---