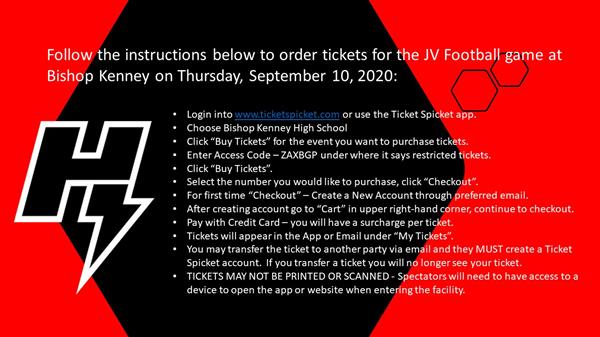 Follow the instructions below to order tickets for the JV Football game at Bishop Kenney on Thursday, September 10, 2020:

Login into www.ticketspicket.com or use the Ticket Spicket app.
Choose Bishop Kenney High School
Click "Buy Tickets" for the event you want to purchase tickets.
Enter Access Code – ZAXBGP under where it says restricted tickets.
Click "Buy Tickets".
Select the number you would like to purchase, click "Checkout".
For first time "Checkout" – Create a New Account through preferred email.
After creating account go to "Cart" in upper right-hand corner, continue to checkout.
Pay with Credit Card – you will have a surcharge per ticket.
Tickets will appear in the App or Email under "My Tickets".
You may transfer the ticket to another party via email and they MUST create a Ticket Spicket account. If you transfer a ticket you will no longer see your ticket.
TICKETS MAY NOT BE PRINTED OR SCANNED - Spectators will need to have access to a device to open the app or website when entering the facility.

All students that participate in sports will need to have a current athletic packet filled out and on file with the school. We have provided the FHSAA Preparticipation Physical Evaluation (EL2) HMSHS Authorization/Release Packet below for your convience. Please see Coach Collins or Coach Wilson with any questions.

COVID Screening Questions for Athletes