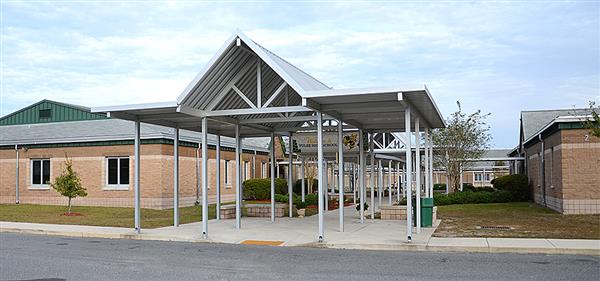 Academic and Career Programs:

Yulee High School offers a wide curriculum which includes Advanced Placement, Dual Enrollment, Honors and Career/Technical Programs.

Advanced Placement-The following AP courses are offered at YHS: Computer Science, English Literature and Composition, English Language and Composition, European History, American History, Macro Economics, Statistics, Calculus, Human Geography, Psychology, and US Government .

Dual Enrollment-DE is offered to 11th and 12th graders in conjunction with Florida State College of Jacksonville to allow high school students to earn both high school and college credit. YHS offers 8 on campus dual enrollment courses, including ENC 1101, ENC1102, LIT 2000, SLS 1103, OCB2000c, MAC1105, BSC 2010c & BSC2011c. Over 1750 hours of college credit was earned in 2015-16 through dual enrollment.

Honors-Courses are offered in English 1 & 2, Algebra 1 & 2, Geometry, Pre-calculus, Calculus, Biology, Chemistry, Physics, Anatomy & Physiology, World History, Humanities, and US History.

Career/Technical Programs- YHS offers programs in Automotive, Allied Health, Building Construction, Web Design, Business Technology Culinary, JAVA, HVAC, and Video Game Design.
School and Community:

Yulee High School is one of four high schools in Nassau County. The school was re-opened in 2006, after Yulee went 40 years without a community high school. YHS serves approximately 1,300 students with over 100 faculty members, located just north of the metropolitan city of Jacksonville, Florida. YHS operates on a 4x 4 Block Schedule consisting of four nine 9 week grading periods beginning in August and ending in May.

Our population is comprised of 82% White and 13% African-American with the remaining 5% divided between Hispanic, Asian, Multi-Racial and American Indian. Approximately 48% of the students qualify for free or reduced federal meal program.
Class Rank:

Class rank is computed at the end of the junior year, using grades 9-11 or 6 semesters and at the end of the 4th 9 weeks during senior year. The rank is determined by grade point average and includes all grades earned in all subjects taken.

Grading Scale-A=90-100, B=80-89, C=70-79, D=60-69, F=59 and below.

Grade Point Average-AP, DE and honors courses are weighted with one (1) additional point for a full credit and a half (.5) a point for a half credit.

Graduation Requirements:

| | |
| --- | --- |
| English | 4 credits |
| Mathematics | 4 credits |
| Science | 3 credits |
| World History | 1 credit |
| U.S. History | 1 credit |
| American Government | .5 credit |
| Economics | .5 credit |
| Performing Fine Art | 1 credit |
| HOPE (PE/Health) | 1 credit |
| Electives | 10 credits |
| Total | 26 credits |