About ITS

The International Thespian Society (ITS), founded in 1929, is an honorary organization for high school and middle school theatre students located at more than 4,900 affiliated secondary schools across America and abroad. The mission of ITS is to honor student achievement in the theatre arts, high school inductees are known as Thespians. West Nassau High School Troupe 5268 was founded in 2016.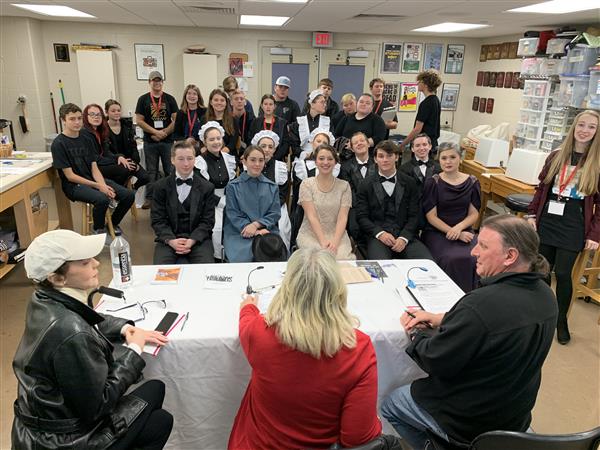 Activities & Involvement

Inside ITS, students have the ability to perform in 3-4 productions per year, obtain many leadership opportunities, and take part in community outreach. Students are honored with achievement inside of a national honors organization after being inducted.
Benefits of the Organization

Florida Theatre Conference (college workshops and chance to talk to colleges all around Florida)
Student Leadership Opportunities
Awards & Scholarships
Induction Ceremonies
Membership in National Honors Organization
Districts (opportunity to perform in front of ajudicators inside of competitive events, with the possibility of moving on to the state and national level)
Scholarships

Dr. Kenny D. Hasija Scholarship
Educational Theatre Association Board of Directors Scholarship
Christopher L. Hunt Scholarship
Educational Theatre Association Presidents' Leadership Scholarship
Michael J. Peitz Leadership Scholarship
Melba Day Henning Scholarship

https://www.schooltheatre.org/programs/ags/scholarships
Dues and Fundraisers

One-time induction fee (per student): $40
Senior Cords: $10
Fundraisers Yearly
Phone:
Email:
Degrees and Certifications:
Sponsor: Joshua McKinney

mckinneyjo@nassau.k12.fl.us
Phone:
Email:
Degrees and Certifications:
Sponsor: Shannon Brandt-Asciolla

brandt-asciollash@nassau.k12.fl.us
Phone: (904) 844-6785
Email:
Degrees and Certifications:
President: Natalie Drake (12)

Natalie Drake is the President of ITS Troupe 5268. She is a diligent, creative, and passionate seventeen year old early admittance student taking all college courses, with the dream of becoming a thriving Broadway actress and professional performance artist. She plans to pursue a BFA acting program that will provide her with the resources that she can use to better her skills and talents as a live performer! Drawing communities closer together and building connections has played an important role in her life and she plans to continue reaching out through art and specialized non-profits in the future.
Phone: (904) 613-5510
Email:
Degrees and Certifications:
Vice President: Dylan Olive (12)

Dylan is a senior at WNHS and is currently Vice President of ITS Troupe 5268, where him and the president keep the department organized and running smoothly. He plans to continue training in theatre through a BFA Acting program, and he eventually wants to end up on screen in film/television. Dylan is apart of many other organizations, he is the Secretary for Student Council, Treasurer for Key Club, and parliamentarian for FBLA.